In Turbulence, a
Clear Pathway Exists
When we talk about an investment discovery engine, we mean discovery in a big way.
Harness unprecedented coverage of investment types, factor characteristics, and time periods with InvestIn's exclusive learning algorithms.
We do the work; you get the accolades.
55,000 potential investments (stocks; bonds; options; ETFs; mutual funds; separate accounts; hedge funds)
200+ factors (return and risk; fundamental financials; ESG)
50+ time periods (calendar year; trailing period; market segments; yield curve segments; GDP segments; employment segments; inflation segments; trading segments)
10+ exchanges (US; non-US)
90+ sectors and industries
130+ peer groups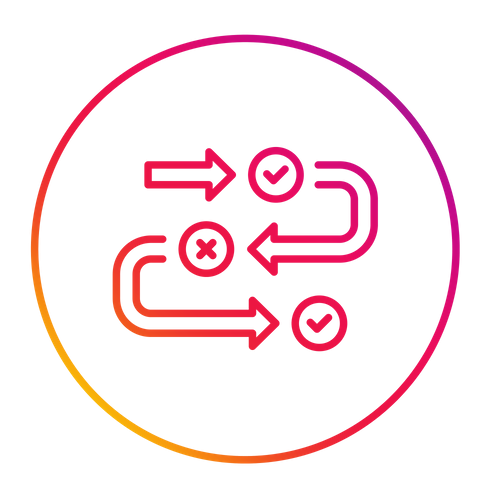 Having made a number of one-of-a-kind advancements, InvestIn's research team is international experts in applied genetic (aka evolutionary) algorithm technology for investment and portfolio analysis.
Genetic algorithms ("GA") operate best with many different conditions like investors confront with market dynamics and global economics. Each new condition allows the GA to learn. This learning leads to thousands of consistently improving solutions until the optimal solution fits the conditions. All within seconds.
One of our top achievements is the invention of multi-period optimization using any mix of historical market and economic conditions for an investor's desired factors. This produces significantly enhanced optimizations that map to the plan's future investing sentiments.
OPTIMAL PORTFOLIOS
We developed a three-layer investment selection and portfolio construction workflow.
Discover investments with the best fit of an investor's desired mix of factors; this includes the option of making one factor more or less important to others in the mix.
Optimize multiple market and economic time periods at the same time (instead of a standard single period limitation).
Achieve a portfolio's best fit to a packaged or custom investment objective.
Get a list of discovered investments optimally fitted to the desired factors you want and ordered from best to worst fit.
Test a portfolio's resiliency in various go-forward market and economic sentiments.
Match a portfolio to the client's desired planning objective: conservative; balanced; aggressive; custom
1 - 5 Users
(No discount)
(Optional hedge fund directory is an additional $6,000)
6 - 10 Users
(15% discount)
(Hedge fund directory is included)
(Hedge fund directory is included)